Corporate Message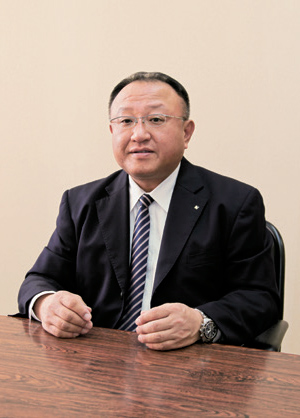 Since its foundation in 1958, we at HAYASHI CO.,LTD. have been dedicated to the manufacturing of a wide variety of products in small quantities and the development of products with increased added-values by capitalizing on our strength as a smaller enterprise specializing in manufacturing of paper products for family use and rooted in the local industry. Above all, the bathroom paper and tissue paper have featuring duplex structure called "sukiawase," which our group originally developed based on the traditional techniques for manufacturing Tosa washi (or paper). These paper and a wide variety of character merchandise have grown into our anchor products.
Moreover, we are also engaged in the development and manufacturing of a variety of houseware such as cooking paper, wet tissues, tea packets, coffee filters and the like by making use of the unwoven fabric technology. Such broad-ranging technologies and manufacturing abilities bring us unrepeatable opportunities for expanding our business by comprehensively suggesting products from a wide array of categories.
Meanwhile, in recent years, from a standpoint as a paper-manufacturing company, we are making every effort to minimize the volume of packaging materials by proactively adopting the raw materials from trees trimmed in a planned manner in order to be environmentally responsible.
As the needs of consumers have been diversified, we are urged to respond to environmental issues and the circumstances faced by consumers and companies are changing on a daily basis. We aim at creating and providing products which "satisfy and comfort the consumers in mind" rather than those used by them simply as "ordinary daily tools." By pursing our goal to "support a dream-inspiring happy life by creating innovative and exciting products," we are resolved to keep on dedicating our efforts diligently and enthusiastically to the development of products with increased added values, which would never disappoint our customers.
HAYASHI CO.,LTD.
Eisuke Sakamoto, President
Corporate Profile
Corporate name
HAYASHI CO.,LTD.

Address

3192-4, Takaoka-cho Otsu, Tosa City, Kochi, JAPAN
Business started in
1933
Founded in
1958
Business category
Processing and sales of household paper
Capital
2,800 ten thousand yen
Representative
Eisuke Sakamoto, President
Business places
Head office in Tosa City, Kochi Prefecture and Tokyo office in Higashigotanda, Shinagawa Ward
Subsidiary

KOSHIN CO., LTD. and KOYO CO., LTD. and 

SHANG HAI MOIST CO.,LTD.
Access
Product Portfolio
In addition to commercial pocket tissues, toilet rolls, boxed tissues, wet tissues and cooking paper, we are launching a variety of novelties. We are developing various products meeting every age bracket, featuring popular characters or watermarks(or "sukashi" marks) based on the traditional techniques used for manufacturing Tosa washi (or paper).
Character Merchandise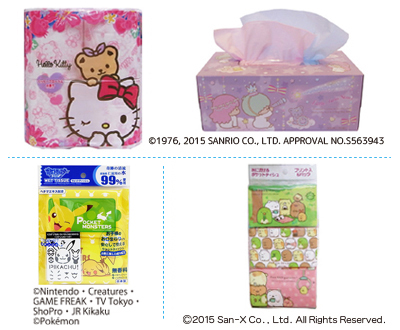 Since we developed character tissues for the first time in Japan, we have been launching a wide variety of pocket tissues, bathroom paper and the like, featuring copyrighted popular characters.
Watermarks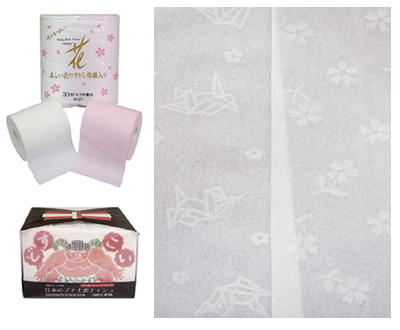 The watermarks (or "sukashi" marks) fabricated by using the traditional techniques for Tosa washi (or paper) are characterized by its sophisticated texture which may never be attained by using printing techniques. Ever since we started manufacturing toilet rolls with watermarks and received favorable reviews in the Japan World Exhibition in Osaka in 1970, they have been long-selling products.
Wet wipes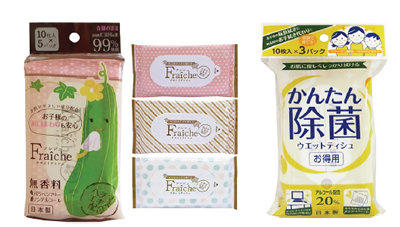 We are supplying nursing care, baby care, children's, sanitation and fragrant goods and products, which are targeted at various age groups and applications.
Lotion tissues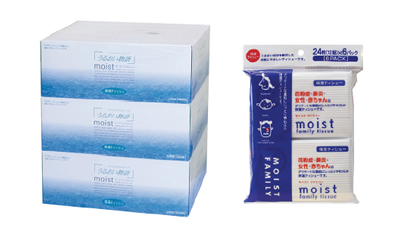 A type of tissue paper containing moisturizing ingredients, which are characterized by nice and soft feelings and ideal for persons with nasal inflammation and allergy to pollen.